My Morning Electrolyte Drink
My Morning Electrolyte Drink
During my keto discovery process I came across the importance of electrolytes and hydration. The following video by Thomas Delauer gives a great explanation as to why they are so important when on the keto diet:
In summary during ketosis the body has much lower carbohydrate levels and so retains less water. As a result the body not only flushes water but also minerals like magnesium and sodium. Therefore on a keto diet it is suggested to keep hydrated and increase the intake of those minerals. When I started keto I learned from first hand experience why this was so important.
Within a few weeks of starting keto I started getting cramps through my calves and feet. These cramps would mainly occur during the middle of the night. I don't know about you guys but I hate getting cramps and trying to get them out. Straight away I did some research and discovered the electrolyte issue.
Therefore, to fix this cramping issue I decided to prepare and drink an electrolyte type drink in the morning to increase my sodium and magnesium intake. I was already drinking an apple cider vinegar, lemon and water drink in the morning. So I thought I might add a few ingredients as a booster for the minerals and vitamins I needed.
In the morning I mix and drink the following electrolyte drink:
600mL of water
5mL of wheatgrass powder
2 tablespoons of apple cider vinegar
Lemon juice squeezed from 1 lemon
1/2 teaspoon of tumeric powder
1 teaspoon of pink Himalayan salt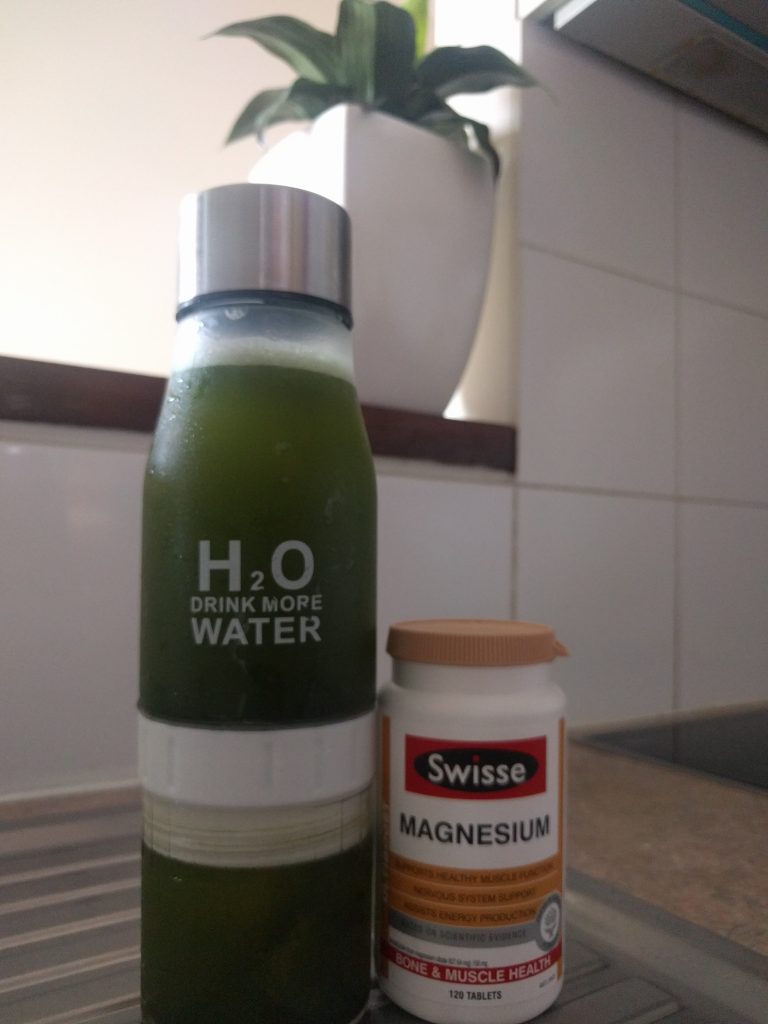 As you can see I also take one magnesium supplement tablet with my drink in the morning. It has been suggested that taking magnesium at night would be better as it improves sleep too. In Australia I recently bought a bottle of 200 magnesium tablets from Chemist Warehouse for just over $30.
I also included tumeric powder for its anti-inflammatory properties. Considering one of my known health issues is gout, I thought I should try a natural alternative to reduce inflammation.
Wheatgrass powder is packed with chlorophyll, minerals and vitamins that help to detox, cleanse and heal our bodies. Dr Axe give a great summary about the benefits of wheatgrass.
Apple cider vinegar has become popular with weight loss. Dr Berg gives a simple explanation of the benefits of apple cider vinegar:
Now I have to confess that the drink tastes very bitter and raw and it won't be to everyone's liking. It's still a struggle with its strong taste but considering the benefits, over time I have become use to the taste. Mind you it may be easier to consume if I reduced the amount of water. I mix it up with 600 mL of water because I want to keep hydrated in the morning.
If you're wondering if this drink would break my intermittent fasting I also checked its calories. Again when I did my research I discovered that if you consumed a drink or food item that exceeded 50 calories then the fast is broken. So I worked out the calories for my drink and it worked out to be 35 calories which means it's a drink that won't break my fast.
Did the electrolyte drink and magnesium supplement help fix my cramping problems? It made a big difference reducing the major cramp attacks. I also believe the benefits of the wheatgrass powder provide a great energy boost for the day too. Each of the elements of the drink provide numerous benefits to help for my keto lifestyle. If you have any questions or comments feel free to leave them below.